TBS21 WITH HEAVY AE1 ADHESIVE
The tbs21 thick adhesive strips have been specially designed for degraded floors, perfectly suited for stair nosings in non-porous stone or concrete. The immediate installation does not require drilling or gluing but only a pressure of 2 kg/cm².
Proople's advice

Clean regulary with water and traditional detergents.
In factories and workshops, it is recommended to use detergents
pH 9 and biodegradable.
Performance tests
Tests carried out by independent national laboratories:
GINGER CEBTP
CEREMA
Slip resistanceSLIP RESISTANT

Fire and smoke resistanceFIRE RESISTANCE NF EN 13501-1 (Cfl-S1)
TBSAFE 21 WITH THICK AE1 ADHESIVE TBSAFE 21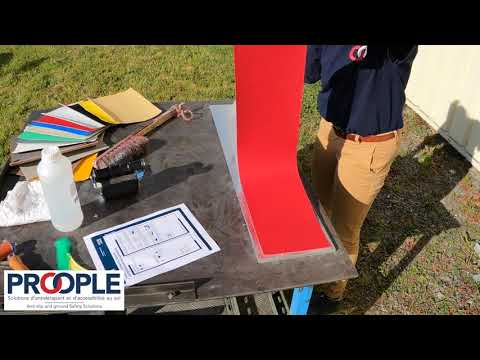 SLIP RESISTANT
SRT TEST SELON NORME EN13036-4 : 0,67 SUR SOL HUMIDE
RESISTANT TO UV, NATURAL CHEMICALS
RESISTANT TO OILS, GREASES, HYDROCARBONS
SALT WATER, ABRASION AND IMPACT RESISTANT
RAPID CIRCULATION
CONFORM REACH
VERY HIGH TACK
NON-TOXIC FOR THE ENVIRONMENT AQUASCOP TEST
FIRE RESISTANCE NF EN 13501-1 (Cfl-S1)
Installation method
INSTALLATION :
Adhésive high temperature resistance.
Sizes
TBSAFE 21 : 30 mm x 10m
TBSAFE 21 : 50 mm x 10m
Colours *
* Colours not contractual
To get certified accessibility

Comply with installation regulations
Choose products that comply with standards

For success a lasting presence

Consider your
environment