STAINLESS, THE STRONGEST AND MOST DURABLE
Ultra-resistant and anti-corrosion treated, it withstands heavy traffic indoors and outdoors.
Product advantages / benefits

The PROOPLE stainless steel nail is suitable for heavy outdoor and indoor traffic. The design of its head gives it great resistance to slipping. Its 8 mm diameter and 22 mm long shaft protects against the risk of cutting the nail head due to repeated impacts. Its marine grade alloy (316L stainless steel) is recommended against salt corrosion and snow.

Proople's advice

The nail alone does not provide a satisfactory contrast on the ground. We recommend that you adapt the installation surface to generate a standard contrast.
Performance tests
Tests carried out by independent national laboratories:
GINGER CEBTP
CEREMA
Slip resistanceSRT sole test : not applicable
Plot AFPV test: 0.55 (> 0.45 required)

Fire and smoke resistanceFire test: material compliant (M4 required)
Smoke test: non-flammable (F4 required)

Product stabilityIndentation test: conforms
Dimensional stability test: compliant

Sizing and continuityConform
Stainless steel podotactile nail CP5I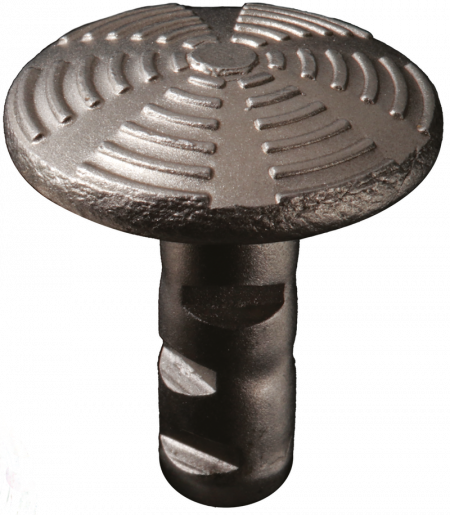 NORM NF P98-351
INOX 316L RECYCLABLE
UV RESISTANT
STRIATED DESIGN© PROOPLE
INDOOR / OUTDOOR
INTENSE TRAFFIC
VERY SLIP-RESISTANT
RAPID CIRCULATION
Installation method
Installation by sealing
All types of flooring except paving
PROOPLE drilling jig
Recirculation < 1 hour
Traffic supported: pedestrian only
Sizes
CP5I: 25 mm diameter head
5 mm thick / 8 mm diameter rod
Length 22mm
Colours *
Natural matte stainless steel
* Colours not contractual
To get certified accessibility

Comply with installation regulations
Choose products that comply with standards

For success a lasting presence

Consider your
environment