THE ULTRA-RESISTANT TWO-IN-ONE, IDEAL FOR OUTDOOR USE
With its integrated riser, it is UV-resistant, frost-proof and highly anti-slip, making it suitable for outdoor steps with no overhang and subject to heavy traffic.
Product advantages / benefits

The PROOPLE aluminium and mineral combo stair nosing is UV and weather resistant. Highly resistant to heavy traffic and slipperiness on wet floors, it is recommended for all types of floors, particularly for category 1 ERP steps and roadways. It combines the 10 cm polymer nose and riser, with an anti-slip ridged edge, for increased resistance to deformation. The contrasting anti-slip surface is 3 cm or 5 cm.

Proople's advice

In the case of staircases with fragile or deteriorated steps, we recommend the combo stair nosing for easy and permanent installation of the riser.
Performance tests
Tests carried out by independent national laboratories:
GINGER CEBTP
CEREMA
Slip resistanceSRT test : 0.87

Fire and smoke resistanceFire-smoke test : Bfl-s1
Aluminium mineral combo stair nosing NO3AM / NO5AM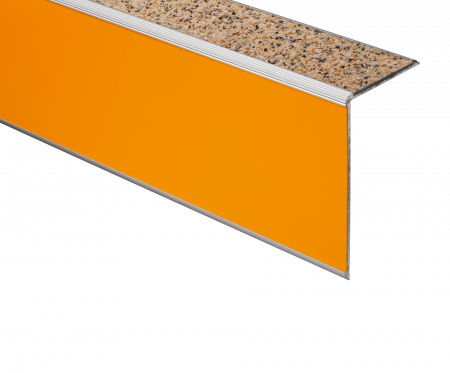 REGULATION 8/12/2014
ALU MINERAL
UV RESISTANT
CONFORM REACH
3 CM OR 5 CM WIDE
INDOOR / OUTDOOR
INTENSE TRAFFIC
VERY SLIP-RESISTANT
RAPID CIRCULATION
Installation method
Screw-in installation
All types of soil
Immediate release
Traffic supported: pedestrian only
Sizes
NO3AM : 39 x 1150 mm / 39 x 1500 mm / 39 x 2305 mm / 39 x 3005 mm. Non-slip 30 mm wide.
NO5AM : 59 x 1150 mm / 59 x 1500 mm / 59 x 2305 mm / 59 x 3005 mm. Non-slip 50 mm wide.
Colours *
* Colours not contractual
To get certified accessibility

Comply with installation regulations
Choose products that comply with standards

For success a lasting presence

Consider your
environment