Proople equips SNSM boats with its self-adhesive TBSafe. TBsafe Proople is a very flexible, medium-grained polyurethane elastomer complex with high anti-slip performance. Used for over 40 years by boating professionals in France and Europe, its adhesive allows a quick and easy installation to secure all your slippery surfaces such as boat decks, cockpit access, or as shown here, the rear deck of a boat.
Good to know: Our TBSafe is available in rolls, sheets and in self-adhesive pre-cut format (NEW)
On board a first class boat.
The first class launch (V1) is unsinkable and self-righting, which allows it to sail far from the coast and in extreme conditions. On average, it has two 330 hp diesel engines, which allow it to reach speeds of 25 knots.
The SNSM has more than 150 lifeboats.
In the port of Les Sables d'Olonne, we find PROOPLE flat profiles made of 6060 aluminium and its non-gelling mineral resin, insensitive to UV, wear and tear and external stresses (salty air, thermal variations over time). Highly resistant to heavy traffic and slippage on damp ground.
The angle of attack of these profiles is optimised (less than 30°) to avoid causing accidents. The anti-slip surface is made up of 2 mineral strips of 20 mm each. This ensures optimal slip resistance.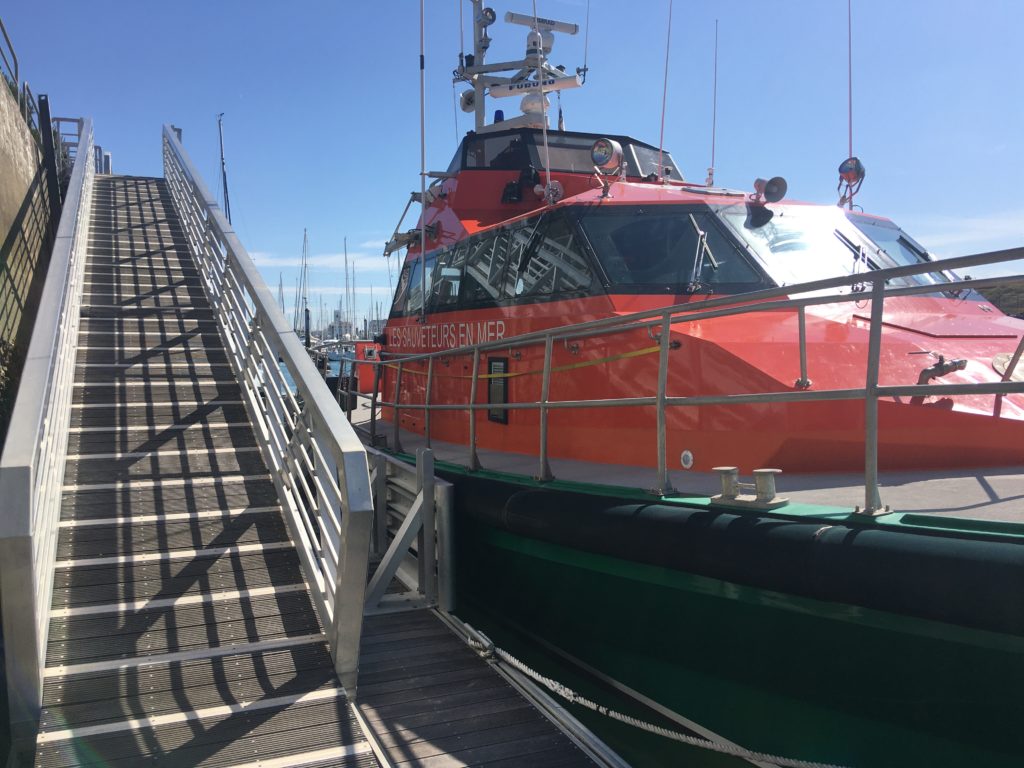 Saving human lives at sea is the primary mission of the SNSM. We are pleased to be able to support the safety of their rescuers on a daily basis.
Thanks to their know-how, their adaptability, their equipment but also their deep commitment, the Sauveteurs en Mer are able to respond effectively to any rescue situation, whether it is a breakdown, an ingress of water on board, a grounding, a medical or sanitary evacuation, or even a fall overboard. In 2020, 11,000 people were rescued by the SNSM's lifeguards at sea, both at sea and from rescue stations.