ULTRA RIGID, HIGHLY ANTI-SLIP STRIP RENEWABLE
Highly slip-resistant due to its integrated anti-slip strip, it is suitable for flat indoor floors subject to heavy traffic.
Product advantages / benefits

The PROOPLE polymer aluminium guide profile is UV and weather resistant. It is highly resistant to heavy traffic and slipperiness on wet floors. With an angle of attack optimised to avoid causing accidents (45°), it is recommended for category 1 ERP and roads with smooth surfaces. The contrasting anti-slip surface hides the screws after installation.

Proople's advice

Based on PROOPLE's expertise in the nautical industry, the polymer tape is non-abrasive for barefoot traffic. It is easily replaced to extend the life of the profile in an economical way.
Performance tests
Tests carried out by independent national laboratories:
GINGER CEBTP
CEREMA
Slip resistanceSRT of the sole: 0.67 (> 0.50 required)

Fire and smoke resistanceFire test: M3 (M4 required)
Smoke test: F2 (F4 required)

Product stabilityIndentation test: conforms
Dimensional stability test: compliant

Sizing and continuityConform
Aluminium polymer guide profile PG1AP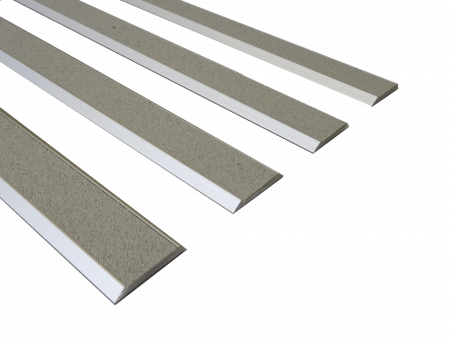 NORM NF P98-352
ALUMINIUM / POLYMER
UV RESISTANT
CONFORM REACH
INDOOR / OUTDOOR
INTENSE TRAFFIC
VERY SLIP-RESISTANT
RAPID CIRCULATION
Installation method
This profile should be installed in 2 strips of 3 rows of profiles each or in one strip of 4 rows of profiles.
Adhesive bonding (inside)
Dry, clean soil with a grain size of < 2 mm
Immediate release
Screw-in installation
All flat floors
Immediate release
Traffic supported: pedestrian only
Sizes
PG1AP : 36 x 2305 mm / 36 x 3005 mm.
Colours *
* Colours not contractual
To get certified accessibility

Comply with installation regulations
Choose products that comply with standards

For success a lasting presence

Consider your
environment