MINERAL PODOTACTILE TILE
The PROOPLE polymer tile is UV and weather resistant, waterproof and easy to clean. Its flexibility and impact resistance allows it to be applied durably to all types of indoor floors without risk of breakage.
Product advantages / benefits

The raw materials used in the manufacturing process comply with the REACH regulation and do not contain more than 0.1% of substances identified in the SVHC list (CMR 1-2, heavy metals, solvents).

Proople's advice

For adhesive installation, select the thin adhesive for smooth floors.
Performance tests
Tests carried out by independent national laboratories:
GINGER CEBTP
CEREMA
Fire and smoke resistanceM3 / F2
Mineral podotactile tile DP4M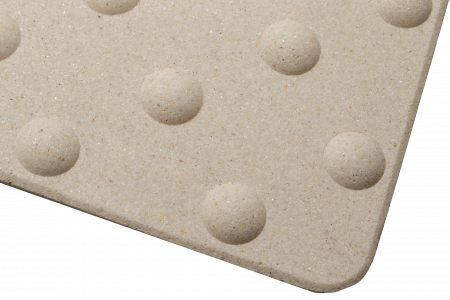 POLYURETHANE
UV RESISTANT
NORMAL TO INTENSE TRAFFIC
FIRE/SMOKE RESISTANT M3 F2
RAPID CIRCULATION
Installation method
Adhesive installation
– Installation time < 1 minute per tile
– Dry and clean smooth floor (thin adhesive)
– Immediate release to traffic
Glue-down installation
– Installation with two-component polyurethane adhesive
– All types of flooring except indoor paving
– Release after 24 hours
Traffic supported: pedestrian only
Colours *
* Colours not contractual
To get certified accessibility

Comply with installation regulations
Choose products that comply with standards

For success a lasting presence

Consider your
environment