What is "Made in France"?
The words "Made in France", "Produit en France" or "Made in France" are words that we are proud to use on our products and solutions to attest to the French origin of our manufacturing.
Be careful not to confuse this with "French Manufacturer", a term which indicates that the company has a French legal status. This does not indicate that its products are made in France. This often masks a high proportion of imported products from areas where working conditions are not regulated as in France;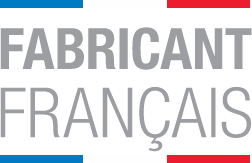 With our "Made in France" marking, we certify that the entire manufacturing / transformation of the product was carried out in France in our factory in Chalonnes / Loire (49).
Only a few raw materials are imported from Western Europe (mainly from Germany as there is no production in France). Thus, we respect the official definition that products whose non-preferential origin is French within the meaning of the European Union Customs Code, i.e. with a last substantial transformation carried out in France, are considered as manufactured in France.
What other indications of French manufacture are there?
– The promotion of French know-how for over 40 years: contacts who know the products and advise you.
– Known product traceability: confidence, reliability and simplicity in the purchasing process.
– The development of local employment and the dynamics of the economy, particularly in rural areas.
– Reducing our carbon footprint: consuming and manufacturing locally means preserving local employment and developing activity directly in the regions by recruiting employees locally close to where they live; this is the case for our sales force located throughout the country.
In addition to our territorial anchoring approach, we also wish to favour local suppliers. This is the case for a major industrial investment in progress with the choice of a partner located less than 40 km from our factory.
Why choose our "Made in France" products?
French quality:
– Excellent product quality, know-how and expertise, the rigour of French industry (standards, certifications, controls, etc.). Our products are tested and meet strict specifications, most of them NF certified. Quality also means optimal working conditions for the employees and operators of our company.
Adapted ranges:
– We develop our ranges with the sole aim of making our customers' work easier. For example, our "ready-to-install" tiles with a specific adhesive for roadways make it possible to considerably reduce the often time-consuming installation work for our customers.
Expertise and know-how :
– With more than 40 years of experience in its field, Proople is a recognised expert in the development of products for the automotive, nautical, aeronautical, railway, construction and road industries.
– This expertise is applied in three areas: Accessibility, Urban and Landscaping and Technical anti-slip with ranges adapted to the needs of all our customers.
To conclude this article on "Made in France"
Buying French: a gesture of economic support above all, even if it means paying a little more. According to a study by Appinio published in February 2022.
It is above all the guarantee of having a better quality product (14%), the French consider that Made in France is above all a way of supporting companies and preserving jobs (38%), or perpetuating French know-how (26%).
Most French people (87%) would also be sensitive to a company that relocated its production to France, to the point of buying its products when they had not done so before.