Wooden decks are now a must for enhancing or extending an exterior.
But to limit the risk of slipping and accidents in the event of rain or frost, it is imperative to make your customers' decking safe: a damp floor, boards covered with moss or a thin layer of frost, and it's a fall. You should know that grooved wood is just as slippery on wet ground as ungrooved wood and that terraces are often made of exotic woods such as Ipé, Cumaru or Itauba, which are reputed to be rot-proof but slippery in the rain.
We therefore offer solutions to ensure that a wooden deck is safe in all circumstances.
… … Here is an example of a restaurant terrace . A ramp allows access for people with reduced mobility. It was necessary to ensure total safety against slipping. It was necessary to ensure total safety against slipping. We therefore proposed anti-slip profiles with a marble granulate insert.
The anti-slip strips consist of an aluminium plate with a cast resin insert and marble granulate. The profiles can be supplied pre-drilled at 20 cm intervals. The profile is then simply screwed on with 4 x 25 mm stainless steel screws.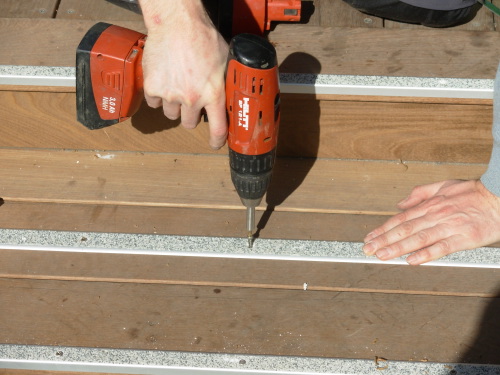 However, these anti-skid devices can be painful if you walk barefoot. In this case, we recommend the use of flexible anti-slip adhesive strips made of TBSafe, which provide a softer surface. Ideal for a pool deck or around a spa, for example!
And all our products are completely environmentally friendly, especially for waterways.
The perfect solution for a safe summer.